Current Music:

Yeah Yeah Yeahs - Heads Will Roll
Originally published at Scott Edelman. Please leave any comments there.
I was flipping through the January 1898 issue of The Nickell—which, as you know, is the kind of thing I love to do, because it's the closest to a time machine I'm going to get—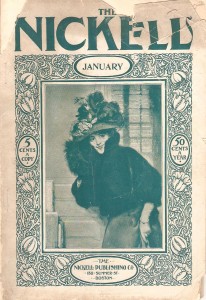 —when I spotted a poignant advertisement filled with nostalgia not just for the late 19th century—but for the early 19th century as well.( Read the rest of this entry »Collapse )

This weekend, you and I stayed at your grandarent's house while your mom went to a Christmas party with some friends. It was the first time in your life that you've had to go to bed without her to nurse you to sleep. In a way, it was a disaster, but it was also a really good experience for both of us. But maybe I'm getting ahead of myself, telling you about how something is different than the normal routine without first explaining how things usually go?

You're six months old, almost exactly. You're still extremely tall for a baby. You can sit up without leaning on things, and you're just on the verge of being able to crawl. Right now you get up on all fours and sort of waggle back and forth, not quite sure how to get the legs to go forward without doing a faceplant. Which you do! But through it all you're incredibly cheerful, and whenever this whole crawling thing gets to be too confusing, with this leg there and that arm over there - you sort of lay down on your stomach, and lift all your limbs up like a sky-diver in freefall. This is sort of your neutral position, and then you can very purposefully and carefully start over again to get yourself in action all over. It's amazing watching you work this stuff out, I can see from the very serious look on your face that you're determined to work it out. Not so serious that if someone catches your eye you won't give them a giant smile, as per your usual reaction.

Sometime in the evening you get tired, and there's a certain tension in your eyes, and you make less happy burbling sounds and more tired-sounding complaints. So then your mom takes you to bed and sort of nurses you to sleep. At some point you get more sleepy than hungry, and we'll tuck you into your crib and have a little while to ourselves. Mostly you'll sleep for at least a few hours, but not always. The next step is getting you to go to bed on your own, but we're not there yet.

So last Saturday your grandmother and I were trying to get you to go to sleep since your mom wasn't home yet, and we didn't expect her till later. But, stubborn little monkey that you are, you absolutely refused to go to sleep until she got home. You weren't cranky about it at all - in fact you were almost supernaturally cheerful, laughing and giggling, smiling at everyone. But sleep? No way! I tried everything; I tried carrying you around and singing you sea-shanties ("Lowland away" is our mutual favorite, I think), feeding you a bottle, or just sitting with you while you were in your crib, dressed for bed. But you were totally animated, crawling around your crib, banging toys against the sides, chattering away in happy baby talk, and just generally showing no signs of slowing down at all.

After a big bottle of milk, you closed your eyes just long enough to fool me into thinking you might be asleep. But no, as soon as I slid you into the crib, you were up and shouting again. This time you were actually upset, and I couldn't get you to calm down until I put you in the front pack again, and walked around the house. And that's what I had to do until your mom got home, whereupon you were promptly out like a light and allowed no evidence whatsoever that we had any problems getting you to sleep at all.

Any other baby would probably cry and carry on when tired, but not you. You're just bright-eyed and playful, interested in everything around you. Hopefully we can get you on a schedule where you're sleeping through the night, but I'm grateful that you're such a cheerful baby. Soon enough you'll be crawling around and talking, but for now you're still just a tiny, happy monkey. Big smiles before bed, big smiles in the morning - and as much energy as the sun.

Love;
Your father.
Dear Eowyn;
Originally published at Robin Hobb. You can comment here or there.
Here I am in Santa Fe, New Mexico, with the Office Kat!  We are here for the launch of the Dangerous Women Anthology.  Tonight at 7, we will be at the Jean Cocteau Cinema in downtown Santa Fe.  We will be joining editors George RR Martin and Gardner Dozois, editors, and a number of other contributors.  We'll be talking about Dangerous Women as portrayed in movies and books, and each of us will do a very brief reading, before we are available to sign copies of the anthology and other books.  You are free to bring your books or purchase them there!
Originally published at Scott Edelman. Please leave any comments there.
Way back in the '70s, Marvel's Sol Brodsky commissioned me to write an Incredible Hulk coloring book. I wrote the script, turned it in, got paid for it … and then never heard a thing about it ever again.
Not until last week, when I spotted a cover from 1977 over at The Marvel Age of Comics Tumblr which had me wondering … is that the same coloring book I wrote? I couldn't be sure, but luckily, within a few hours, Paul Di Filippo alerted me to an eBay auction, and I jumped, exercising the Buy Now option so there'd be no chance I'd lose out.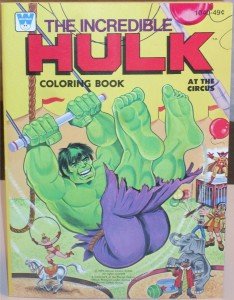 Well, now that I've had a chance to read the thing—all 230 words of it—I'm going to say that this is the coloring book I wrote all those years ago. And I'll keep saying that until someone comes along to contradict me.( Read the rest of this entry »Collapse )

The ones you just bump into in the street,
Have drinks with in the pub, don't plan to meet,
But happy to have join you when they show.

He always went by Spider. He was great;
He taught my son high fives; he had a scarf
Like Doctor Who; he always made me laugh.
Friend is too strong a word, he was a mate.

How little, and how much, what's to be said?
He joked, and shared his warmth, earth-salt, true gold,
Until leukemia made his blood run cold,
For years I knew him slightly. Now he's dead.

He never shook the skies or took up space
But made the world a gently better place.
There's people you see sometimes, that you know,
Only another week of classes. The end is in sight. I'll probably get the grade sheets Monday. Then we pack and leave . . . sort of. In a way, the move is simpler than usual, since it's a matter of choosing between stuff that goes back to Florida and stuff we give away or toss. Nothing stays.
Which translates, of course, into an apartment full of boxes, which Gay and our dear friend Jag are right now filling and refilling and eventually taping and consigning to Railway Express. No, that's Pony Express. No, Big Brown Truck Express.
Although we love Boston, I can't say it will be difficult to leave. I want to get back to "real" life. Even though it's the difference between a salaried high-status position and being a money-grubbing freelancer.
No longer An MIT Professor. It's attractive, in a non-mysterious way.
I want to go back to normal life, the writing life. The morning-dark porch and oil lamp and fountain pen – which nowadays is more like the porch on the coffee house on the corner in broad daylight. I've allowed myself to grow soft, with the steady income and legitimacy of the MIT job. Now I go back to the open market.
After the holidays settle down, I may try to get back into that groove: go to bed early and get up around four, and work in the morning darkness and silence. Quit around nine or ten and nap for awhile.
My current regimen in Florida came out of desiring regular exercise – I'd bicycle eight or ten or twelve miles before settling down to write. In the past several years, I've moved out of the darkness . . . I do work before dawn, but it's non-writing stuff, in my office at home. When it starts to get light, I get on the bike and go a few miles to a coffee house and start writing.
But it's not really that much exercise. Maybe I have to revise things so that I incorporate gym time into the routine. Maybe write in the dark of the morning and go off to the gym when the sun comes up.
(I hate to do this, because my "self-image" is of someone who gets plenty of exercise in the normal course of the day. But in fact the scale, sadly, says otherwise. I have to eat less or exercise more.)
Whatever, it will be an interesting new chapter to open. Have to finish this one first, though.
Joe
Originally published at Scott Edelman. Please leave any comments there.
Looking back at November, it seems I had fewer dreams that month than any month I can remember. And I have no idea why.
No matter. I'm still tossing my dream tweets together here to see if they make more sense when rubbing up against each other this way.
November's guest stars included Caroline Kennedy, Robert Silverberg, Jay Lake and the doctors and interns of Seattle Grace Hospital …
November 2013


I dreamt I was about to do a reading and ‪@jay_lake wheeled in a cot so I could tuck in with the audience as if sharing a bedtime story. 30 Nov
I dreamt I was in a hospital for tests, and my nurse handed me a needle and told me to find a vein and draw my own blood. I told her … no. 

30 Nov
I dreamt I took an intensive writing course, which was great, but my teacher could only speak Spanish … and so we had some difficulties.

 29 Nov
I dreamt I peered outside in search of deer, and instead saw a large lizard, at least six feet long, ambling along. Which didn't seem odd. 

27 Nov
I dreamt a woman was being attacked by a crowd in the UK, and I intervened to save her — but when I looked around after, she'd disappeared.

 27 Nov
I dreamt I was first in line at ‪@FranklinBBQ, with ‪@IreneVartanoff, ‪@Shunn, and ‪@Chavoen. Then a cook ate brisket next to me, torturing us! 

25 Nov
I lost one of last night's dreams because I have no idea what my scribbled note, meant to act as a memory catalyst, means: MACY'S DREAM BOOK

 23 Nov
I dreamt I bumped into David Kyle and Robert Silverberg at Worldcon. We hugged and wouldn't let go, as if we knew it was the last time.

 23 Nov
I dreamt I visited a museum in darkness, deliberately so. We we meant to touch the statues and imagine them. Only then did the lights go on.

 22 Nov
I dreamt I stepped outside to discover someone had built a huge brick house on the lot next door, one I'd never noticed being constructed. 

21 Nov( Read the rest of this entry »Collapse )
Here's a story about the book from today's PASATIEMPO, the magazine of the Santa Fe NEW MEXICAN.
http://www.santafenewmexican.com/pasatiempo/books/readings_signings/damsels-who-distress-dangerous-women-an-anthology/article_2b831a74-dac3-5826-b1eb-5a4b1f89d4cc.html
Our table of contents:
The full table of contents:
INTRODUCTION, by Gardner Dozois
SOME DESPERADO, by Joe Abercrombie
MY HEART IS EITHER BROKEN, by Megan Abbott
NORA'S SONG, by Cecelia Holland
THE HANDS THAT ARE NOT THERE, by Melinda Snodgrass
BOMBSHELLS, by Jim Butcher
RAISA STEPANOVA, by Carrie Vaughn
WRESTLING JESUS, by Joe R. Lansdale
NEIGHBORS, by Megan Lindholm
I KNOW HOW TO PICK 'EM, by Lawrence Block
SHADOWS FOR SILENCE IN THE FORESTS OF HELL, by Brandon Sanderson
A QUEEN IN EXILE, by Sharon Kay Penman
THE GIRL IN THE MIRROR, by Lev Grossman
SECOND ARABESQUE, VERY SLOWLY, by Nancy Kress
CITY LAZARUS, by Diana Rowland
VIRGINS, by Diana Gabaldon
HELL HATH NO FURY, by Sherilynn Kenyon
PRONOUNCING DOOM, by S.M. Stirling
NAME THE BEAST, by Sam Sykes
CARETAKERS, by Pat Cadigan
LIES MY MOTHER TOLD ME, by Caroline Spector
THE PRINCESS AND THE QUEEN, by George R.R. Martin
And for those in Santa Fe, Albuquerque, or the rest of the Land of Enchantment...
Tthis Monday, my co-editor Gardner Dozois and I will be at the Jean Cocteau Cinema in Santa Fe with seven of our writers. So come join me and Steve Stirling and Melinda Snodgrass and Diana Rowland and Gardner Dozois and Carrie Vaughn and Diana Gabaldon and Sam Sykes and Megan Lindholm/ Robin Hobb for an evening of DANGEROUS TALK ABOUT DANGEROUS WOMEN,
So come and hear us if you can, and get your books signed as well. We should have copies of many other titles by our attending writers on hand, along with a big stack of DANGEROUS WOMEN itself.
DANGEROUS WOMEN is here. The anthology was released on December 3 in hardcover and ebook, and should be available from your favorite local bookstore or online retailer. This is a monster, as those who have already snagged a copy can testify, a massive crossgenre assembly of all original stories about women warriors, femmes fatale, and kickass adventurers, containing not only "The Princess and the Queen," my own 30,000 word account of the Dance of the Dragons, but all sorts of other terrific stuff as well.
Current Location:

Santa Fe

Current Mood:

excited
Current Mood:

creative

Current Music:

Strategic Music - The Evolution Theme