Through
pegkerr
, I found out about this short Harry Potter fan film by filmmaker
Justin Zagri
.
The Greater Good
is a prequel to the J.K. Rowling novels about a pivotal scene between Albus Dumbledore, Aberforth Dumbledore, Gellert Grindelwald, and Arianna Dumbledore. It relates the falling out between young Albus Dumbledore and Gellert Grindelwald and the duel that results. The dialogue is top-notch, and the special effects are better than what is usually seen in your typical fan film.

Justin Zagri also recently released a Batman fan film, Riddle of the Mask. It doesn't feature any science fiction or fantasy content, but is a great tension-filled dialogue between Edward Nigma (aka The Riddler) and Helena Bertinelli (aka The Huntress). Beau Marie is scary good as Edward Nigma, and Charissa Saverio (probably better known to the public as DJ Rap) brings a lot of heart to the role of Helena.

Film festival shorts and fan films do not generally get support by the Hugo nominating community. Here is one that I think is worthy of serious consideration.
What I demand is:
Best World-Building in SF
Best World-Building in Fantasy
Best Leading Character
Best Supporting Character
Most Mind Blowing Concept in a Work of SF
Most Mind Blowing Concept in a Work of Fantasy
Oh, there can be others too for costuming, make-up, music and the like, but this would make a nice start.
Just last night I started reading a first novel. The writing was rough to be honest, but the world-building was 8.3 times better than most things that win the Hugo. It doesn't have a hope of winning anything. So, your job. Is to make it happen.
Now, does anybody want to nominate for any of the categories in next year's Peadars?
I imagine Ann Leckie's
Ancillary Justice
would be in with a shout for the SF World-Building. What do you think?
Some of you are rich -- don't bother trying to deny it, you know who you are. I want you to fund a new set of Science Fiction book awards, to be called "The Peadars". And wait! Wait right there! I don't want the usual "Best Book of the Year", or "Medal for Author with the Most Friends".
Current Mood:

creative

Current Music:

Johnny Cash - Ghost Riders In The Sky
Worldbuilders
, Pat Rothfuss's yearly, F&SF-themed charity drive. Pat puts a great deal of work into the charity, and I love how it brings the community together to do something great. The charity he supports (
Heifer International
) is quite worthy, and I've participated in one way or another every year I've been able.
This year, I wanted to do something a little special. With the help of the
Waygate Foundation
, the group of Wheel of Time fans who seek to do charitable work, I have offered to Pat a special event for Worldbuilders, if one of his benchmarks is met. (I believe he set it at 100k in donations, which we're very close to reaching.)
He lists my stretch goal as something like, "Brandon will live-stream a writing session." But this is going to be so very much more than such a simple sentence indicates. If we hit Pat's goal, I'm going to get on
Twitch.tv
(a streaming site with an integrated viewer chat) and then I'm going to brainstorm and write a story according to audience direction.
That's right, I'll let you have a say in deciding turning points, descriptions, and general mayhem in the story. I'll explain what I'm doing each of the way via Twitch's integrated webcam feature, and will try to do an extended Q&A as well.
I'll look at doing this for five hours or so: an hour of brainstorming followed by four hours of writing. If we don't finish the story (which is likely, as I envision four hours getting us somewhere around 2,000–3,000 words) I'll try to wrap up what I'm doing in some interesting (but open-ended) way, then release the story into the Creative Commons as something like an extended writing prompt. The challenge to all of you will to be to finish it according to your preference.
Either way, it should be a very unique experience. You'll be able to not only watch me write, but have a hand in what takes place, as well as ask questions about the process while it's going on. If you'd like to see this happen, all you need to do is donate to Worldbuilders. (I'll probably use the writing session itself as a mini donation drive as well.)
Now, there will be some limitations. The chat will be heavily moderated by my team to delete abusive or inappropriate language—be aware, therefore, that we're going to be a little trigger-happy with deleting comments. Something like this could quickly spiral out of control. If we hit the goal prompting me to do this, I'll look at doing this session in the coming weeks—I promise it will at least happen before Worldbuilders ends on February 2nd. (I'm thinking second week of January is the likely date, though I'll give lots of forewarning.)
My intent is to release whatever I write during the session to the Creative Commons. Then, I will probably finish the rest of the story on my own time and donate it to Worldbuilders or Waygate to sell (assuming it turns out well enough to be worth paying for) as a digital download, proceeds going to charity. I do have to warn that though the writing process of the story should be a lot of fun—and will hopefully be very interesting to all involved—I can't promise the story will actually
work
. I've never done anything like this before. You're going to be able to see me write a rough draft in all of its ugly glory, egregious spelling errors included. Perhaps that alone will be amusing enough to some of you to encourage a donation. But I've been toying with trying this for over a year now, and it's time to offer the chance to everyone out there.
So, please go to
Worldbuilders
and check out all of the awesome incentives that authors and other creative professionals are offering.
Donate
what you can. Then, get ready for something distinctly strange as you all create the story, and I do the writing.
Brandon
Hey, all. As the holiday season is here, I wanted to give a shout-out to
Current Mood:

creative

Current Music:

Yeah Yeah Yeahs - Turn into
Originally published at Scott Edelman. Please leave any comments there.
While the death of Peter O'Toole, whose work I admired in such films as Lawrence of Arabia, The Ruling Class, and My Favorite Year, saddened me, I was far more moved by learning today of the death earlier in the week of Tom Laughlin, who starred in, directed, and co-wrote the 1971 movie Billy Jack. O'Toole was, of course, the far better actor, but in terms of which man affected me the most, there's no contest. Laughlin kicked me where it counted.
And there wasn't a damn thing I could do about it.
I saw Billy Jack multiple times when I was a teenager, had its dialogue memorized, imagined myself standing up for the downtrodden in that famous ice cream shoppe scene (so iconic it was later spoofed by Paul Simon in a Saturday Night Live sketch), and for a time even wore a BILLY JACK FOR PRESIDENT button.
So when Marvel Comics decided to devote an issue of its Deadly Hands of Kung Fu magazine to the phenomenon as a tie-in to the 1974 The Trial of Billy Jack movie, who better to write a think piece about the meaning of it all than the guy who was nuts about the first film? (Beneath that wonderful Neal Adams cover you could also find a second article on the sequel by Black Panther/Killraven writer Don McGregor.) In order to make my point in the essay, I managed to drag in Paul Kersey from Death Wish and Jesus Christ from, you know, The Bible.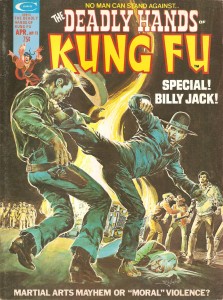 As I reread the piece now, I can see that it's overly influenced by the stylistic pyrotechnics of Harlan Ellison and Tom Wolfe, it suffers from the fact that I was still a beginner at this writing thing, and it contains all the self-righteous earnestness of a college dorm room bull session.
And yet, through it all, my love for the Billy Jack films and the work of Tom Laughlin is evident, so I think it's still worth sharing on a day like today.( Read the rest of this entry »Collapse )


The Jets at least put up a fight against the Panthers. Their D is for real. And there was one cool moment, when Rex used huge DT Sheldon Richardson to pound in a TD. But I still don't believe in Geno Smith. How did he get back in when I wasn't looking? Last I heard, he'd been benched and they were going to give Matt Simms a try.

The Giants game... I have called in the Men in Black to have that wiped from my memory. 5 INTs?? Oh, Eli, where are thou...
Finally home from all my travels, no major events to fill up my weekend, a Sunday free for football... and both my teams go down in flames.


I'd really like to dive into the rest of the novel (which shouldn't require quite as much revision -- unless, of course, I'm wrong! -- but I have a WILD CARDS draft due, and I have to get cracking on that or I'll be hopelessly behind.

And then there's the semester's grading. I have three of the four classes done at this point, but I have another to do, and I need to get that done today... So have fun, internets, since I'll have my head in Final Portfolios for most of the day...
The first third of CROW has been revised -- which added about 7,000 words to the total word count for the novel, as most of the work was adding chapters from another character's POV.
Current Music:

You Make Loving Fun - Fleetwood Mac


DANGEROUS WOMEN has come roaring out of the gate. The hardcover will debut at #18 on the NEW YORK TIMES bestseller list for December 22.

That's just a hair too low to make the printed list, which only lists through #15, but it's still a sensational showing for an anthology, especially one as massive and expensive as DW. It's also on the USA Today list (which aggregates all types of books, hard and softcover, fiction and nonfiction, into a single list) at #70. And it's #25 on Ingram's internal "Hardcover Fiction" list.

I love doing anthologies, but it is very rare than one of them sells really, really well. There have been some, of course... DANGEROUS VISIONS way back when, DARK FORCES during the horror boom, LEGENDS and LEGENDS II more recently... It's a short list, though, and Gardner and I are more than thrilled that DANGEROUS WOMEN is now on it.

It's our readers who put it there, of course. So give yourselves a pat on the back, all of you who bought the book. And if you haven't yet... hey, get on it. Maybe we can climb up to #17 next week.

And my thanks go out to Gardner Dozois, world's best co-editor (he does all the heavy lifting) and our incredible lineup of writers. Without you guys, nobody would be buying the book, since there wouldn't be one. Melinda Snodgrass, Diana Rowland, Caroline Spector, Diana Gabaldon, Steve Stirling, Carrie Vaughn, Megan Lindholm, Sharon Kay Penman, Megan Abbott, Brandon Sanderson, Nancy Kress, Lawrence Block, Jim Butcher, Joe Abercrombie, Joe R. Lansdale, Lev Grossman, Sam Sykes, Cecelia Holland, Sherrilyn Kenyon, and Pat Cadigan... thanks.


Which is a lot more exciting than it sounds.
Current Location:

Santa Fe

Current Mood:

excited
Originally published at Scott Edelman. Please leave any comments there.
I know about Paul Bunyan and Babe the Blue Ox the way many people do. Meaning—it's not from reading the original stories, but rather from the Disney cartoon, the Classics Illustrated comic, tales improvised by camp counselors around a fire, or just absorbing the inescapable pop culture references.
Of course, those original stories weren't so original, as they were folktales long before they were written down, but since I'm not going to get a chance to sit at the knee of a French Canadian in the 19th century and hear them as they were first told, the works of James MacGillivray and James Stevens are the best I can do.
In any event, what this means is that it wasn't until today that I got to meet Cream Puff Fatty and Hot Biscuit Slim, two of the greatest (fictional) chefs that ever were.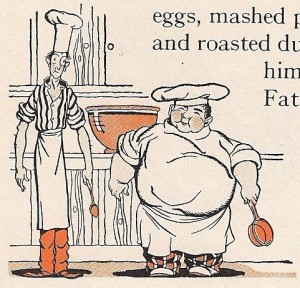 I'm sure you can figure out which is which in the illustration above. (I haven't been able to track down the name of the artist responsible for that image. If you know, please speak up!)
I discovered them because for some reason, Irene and I got to talking this afternoon about parsnips, which led to us debating whether Paul Bunyan had died from eating poisoned parsnips, which led to me reading about Paul Bunyan's Black Duck dinner … which introduced me to Cream Puff Fatty and Hot Biscuit Slim, two cooks so amazing that after they fed a team of loggers, not only were none of Bunyan's team able to rouse themselves to appear for the following meal, but "for five weeks the loggers lay in a delicious torpor."
What kind of meal could do that? An epic one! Read an excerpt below from the June 1924 issue of the American Mercury for one of the greatest fictional meals I've ever encountered.( Read the rest of this entry »Collapse )